ANKLE & FOOT CENTER OF CENTRAL FLORIDA
Podiatry located in Tavares, FL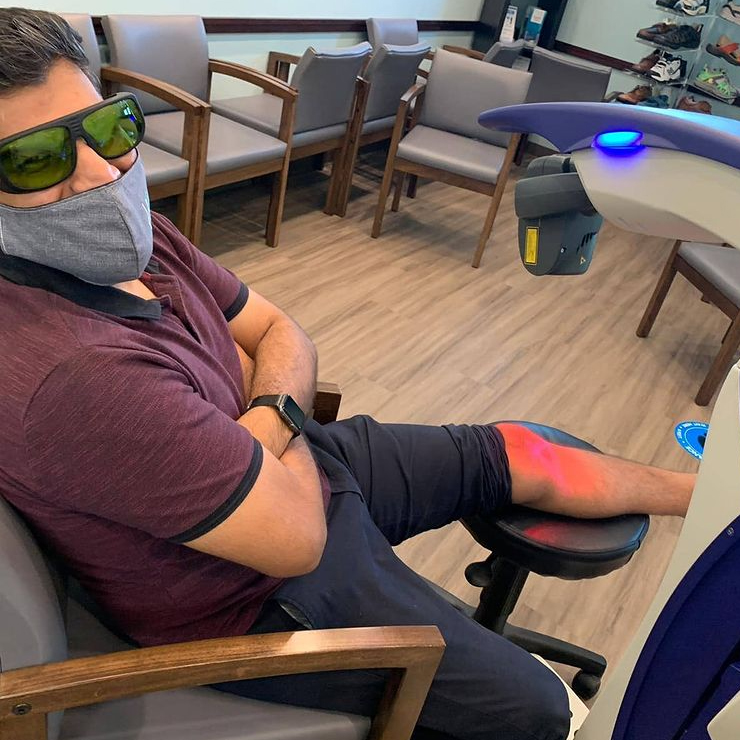 Pain-Free, Truly Non-Invasive Robotic Laser Therapy Treatment used to Relieve Pain, Inflammation & Edema Without Writing a Prescription for Pain Medications.
Laser Therapy creates a safe space for patients and providers. Here at Ankle & Foot Center of Central Florida, this highly effective therapy laser is now included at our practice to give patients what they are looking for in regards to getting better faster without the need for drugs, injections or surgery! Delivering energy robotically allows for equal doses of energy throughout the entire condition. Energy to tissue to allow unhealthy tissue to start to get better on its own. This is a perfectly executed laser therapy treatment for a patient completed by one of our trained technicians.
MLS laser Therapy Q & A
What is MLS laser therapy?
Multiwave locked system (MLS) laser therapy is an FDA-cleared solution for relieving pain and inflammation. Treatments utilize dual wavelengths of infrared light to penetrate deep below the surface of your skin, into underlying bones and tissues.
This laser energy stimulates cell regeneration, which ultimately encourages new tissue development. MLS laser therapy even improves blood circulation, further stimulating healing and pain reduction.
What can MLS laser therapy treat?
MLS laser therapy is entirely non-invasive, painless, and effective for treating a realm of different musculoskeletal injuries and degenerative conditions. The team of podiatry specialists at Ankle & Foot Center of Central Florida offer MLS laser therapy to help treat:
Muscle strains and tears
Musculoskeletal pain
Certain neurological issues, like neuropathy
Degenerative joint conditions, including arthritis
Ligament injuries, like a sprained ankle
Tendon injuries, including Achilles tendinitis
MLS laser therapy is also beneficial for improving healing and shortening your recovery time after foot or ankle surgery. In some cases, your dedicated podiatrist may even suggest MLS laser therapy to treat deep tissue wounds and diabetic ulcers heal, too.
How long does it take MLS treatments to work?
MLS laser therapy treatments are known for being comfortable and relaxing. Many men and women explain that it feels like they're getting a warm massage, so they leave their session feeling more relieved.
While you should start noticing an improvement shortly after your first MLS laser therapy session, it can take up to 1-3 visits – each about 15 minutes – to really start noticing an improvement. You should start feeling better and experiencing a gradual decrease in pain and inflammation immediately after every visit though.
Depending on your injury and the size of your treatment area, the skilled podiatrists at Ankle & Foot Center of Central Florida usually recommend 2-3 appointments each week, for up to six weeks, in order to achieve optimal results. Your dedicated podiatrist lets you know what to expect during your consultation.
Learn more about how MLS laser therapy offered at the Ankle & Foot Center of Central Florida can benefit you by scheduling a consultation. Book online or over the phone.

* Individual results may vary.