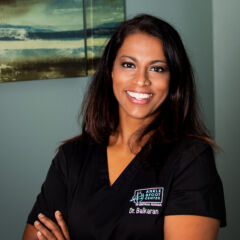 Dr. Joanne Balkaran
DPM, FACFAS, CWS - Diplomate, American Board of Foot and Ankle Surgery® | Certified in Foot and Ankle Surgery | Certified in Reconstructive Rearfoot / Ankle Surgery | Certified Wound Specialist
Board-certified foot and ankle surgeon Joanne Balkaran, DPM, FACFAS, has more than 12 years of experience in podiatric care. She currently serves men, women, and families throughout Lake County at Ankle & Foot Center of Central Florida in Mount Dora, Florida. 
Dr. Balkaran was born and raised in Toronto, Ontario, Canada. She decided to pursue a career in medicine after seeing her grandmother and father battle diabetes and cancer. Prior to launching her career, Dr. Balkaran served in the Canadian armed forces.
She began her professional pursuits at Barry University in Miami Shores, Florida, where she earned her Doctor of Podiatric Medicine, graduating with high honors. Following graduation, Dr. Balkaran completed a residency at Palmetto General Hospital in Hialeah, Florida. She also completed a Masters of External Fixation fellowship at the Istituto Ortopedico Galeazzi in Milan, Italy.
As a podiatrist, Dr. Balkaran works with people of all ages, from infants and toddlers to adults and senior citizens. She sets aside plenty of time to spend with each person and listens carefully to their symptoms and concerns. Dr. Balkaran's extensive knowledge of foot and ankle problems enables her to develop treatment plans that ease her patients' symptoms and improve their quality of life.
Dr. Balkaran speaks English, Spanish, and French. She welcomes any man, woman, or family in Lake County seeking improved foot or ankle health to Ankle & Foot Center of Central Florida today.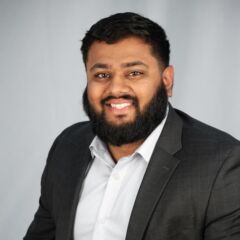 Dr. Rikesh A. Patel
DPM, AACFAS
Dr. Rikesh Patel joined the Ankle and Foot Center of Central Florida at the end of June 2022. He is our Associate Foot & Ankle Surgeon. He completed his undergraduate studies in Cell and Molecular Biology at the University of South Florida, before graduating from Barry University with a doctorate in podiatric medicine. He graduated from Palmetto General Hospital with an added credential of reconstructive rearfoot and ankle surgery and served as Chief resident in his final year.
Dr. Patel's specialties include trauma, limb salvage, deformity correction, and minimally invasive surgery of the foot, ankle, and lower extremity below the knee.
Fluent in English, Gujarati, and Spanish, his interests outside of medicine include traveling, spending time with family, and an avid sports fan – especially with any of his Tampa home teams.
Monday
Tuesday
Wednesday
Thursday
Friday
Saturday
Sunday
8:00 am – 5:00 pm
8:00 am – 5:00 pm
8:00 am – 5:00 pm
8:00 am – 2:00 pm
8:00 am – 2:00 pm
Answering Service
Answering Service